Downtown Zebulon
The Town of Zebulon is a North Carolina Main Street community, designated by the N.C. Department of Commerce Main Street & Rural Planning Center. The Zebulon Downtown Organization is charged with administering the program at the local level and building public-private partnerships to spur economic development that achieves measurable results such as investment, business growth, and job creation.

Downtown Zebulon is a place where everyone is welcome. Shops offer hand-crafted gifts, artwork, clothing, accessories, and more.
On July 1, 2023, Downtown Zebulon became one of the newest NC Main Street communities. The N.C Main Street Program promotes economic sustainability through the NC Main Street 4-point approach: Organization, Economic Vitality, Design, and Promotion.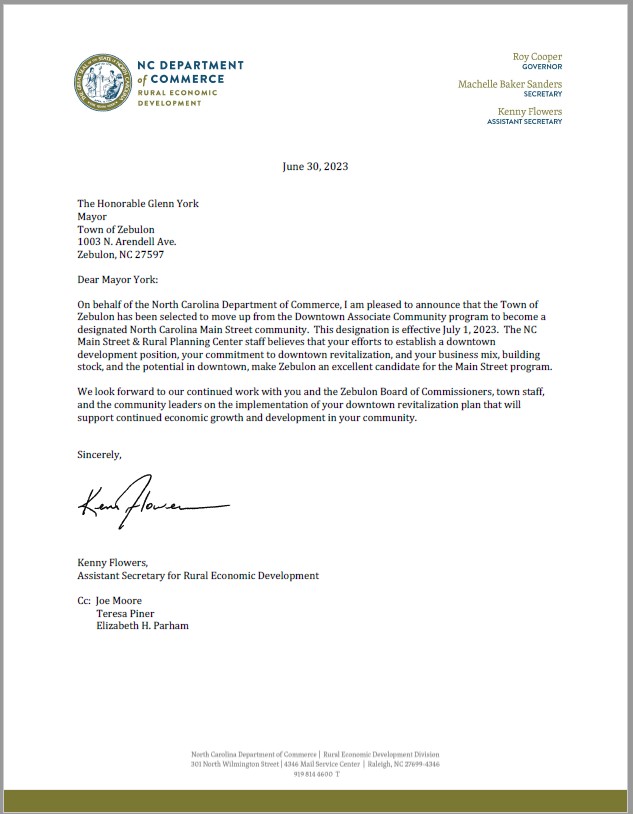 ---
Business
Downtown Zebulon focuses on existing businesses, recruiting new businesses and development, and enhancing the Downtown experience within the Business Core.
---
Downtown Façade Grant
Downtown Zebulon offers a Façade grant to Downtown Commercial properties/businesses. This rolling grant program will provide matching assistance up to $2,500.
---
Volunteers
Downtown Zebulon is always looking for volunteers. Interested stakeholders are encouraged to participate in Downtown beautification, planning, and events.
Contact Main Street Coordinator, Teresa Piner, tpiner@townofzebulon.org to get involved!
---
Contact Information
919 823-1807
1003 N Arendell Avenue
Zebulon, NC 27597
---
Other resources:
NC Main Street & Rural Planning
NC Small Business and Technology Center
Wake Tech Small Business Center
https://www.mainstreet.org/home
Social Media:

Follow Zebulon Planning on Instagram for Downtown Associate Meeting Announcements and Downtown Development